An Australian Architect Builds a Rammed Earth-and-Steel Home For His Family
Australian architect and builder Paul O'Reilly says he's been designing his "ideal house" since architecture school, the result of which is Bush House, his family home inspired by a lifelong love of camping.
"We would to set up a canvas tarpaulin out from our four-wheel drive to camp under—to provide shelter from sun and wind and rain—and this was the main element that drove the design of the large, single roof of our dream home," says O'Reilly, founder of Western Australian studio Archterra. 
Newsletter
Join the Daily Dose Newsletter
Get carefully curated content filled with inspiring homes from around the world, innovative new products, and the best in modern design
Located on O'Reilly's family's cattle farm in the coastal country town of Margaret River in Western Australia, the 1,808-square-foot residence sits within a clearing surrounded by jarrah bushland and eucalyptus trees.
Influenced by the Case Study homes built between 1945 and 1966 in California, O'Reilly created a 12-foot structural grid that enabled a prefabricated steel frame support structure to be erected within a day. Under the shade and protection of this structure and a single-plane roof, he could then erect infill timber framing come rain or shine. 
"The roof plane rises up to the north to provide a view of the sky and treetops through cedar-framed clerestory windows that provide a warm and tactile contrast to the clear anodized sliding door frames," he says.
A simple, rectilinear floor plan locates the living areas to the east, and the sleeping areas to the west. 
"The shared and private zones are delineated by a change in floor level, and a thick rammed-earth wall that continues through the house into the outdoors," says O'Reilly. "This rammed-earth wall also defines the entry approach from the detached carport and workshop."
The two guest bedrooms are oriented to the north to soak up the winter sun, while the master bedroom faces the southwest to enjoy the best sunset views filtered through the surrounding tree canopy. Also facing southwest is a bathroom with a glass door that opens to the bushland to create an experience of an outdoor shower. 
Shop the Look
The house has two outdoor decks—one that sits sheltered from the elements under the overhang of the roof, and another that's more exposed so the family can lounge in the sun or stargaze at night. 
Durability and low maintenance were key considerations for O'Reilly when it came to material selection, so he decided on raw galvanized steel, and external finishes of Zincalume metal and rammed earth, all of which needed no ongoing maintenance.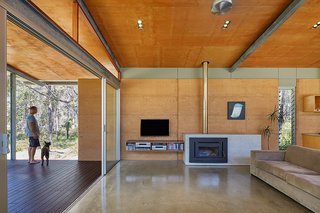 For the interiors, he chose tactile, natural materials such as rammed earth and plywood to contrast the "synthetic" concrete floors, exposed galvanized steel structure, and white painted plasterboard internal walls. 
"I appreciate the Japanese notion of 'wabi-sabi,' or the aesthetic of the imperfect and unfinished, and sought to imbue the design with this," says O'Reilly. "Bush House is special to me because it's the culmination of a long-held desire to physically build a house for my family, which I think is a really primal thing for a guy to do. Being not only the architect and builder, but also the client, gave me a lot of interesting insights into how architects go about distilling and filtering multiple ideas into a singular gesture."