Before & After: A Midcentury Wrapped Around an Oak Tree Turns Over a New Leaf
As a California native practicing in the Bay Area during the heyday of Eichler developments and Case Study Houses, modernist architect Wayne Littlejohn developed a style strongly influenced by the midcentury modern movement.
This hillside-embedded house completed in 1963 in Danville, California, bears the hallmarks of an Eichler—sweeping expanses of glass, deep cantilevered overhangs, and an embrace of indoor/outdoor living—yet it had fallen into disrepair by the time a young house-hunting couple discovered it last year.
Before: The Front Facade
Newsletter
Join the Renovations Newsletter
Get carefully curated content filled with inspiring homes from around the world, innovative new products, and the best in modern design
After: The Front Facade
Fortunately, the damaged exterior and dismally dark 1970s interior didn't scare away the couple, who were captivated by the home wrapped around a massive oak tree embedded into the inner courtyard. Undaunted by the renovation process, the new homeowners reached out to Oakland-based See Arch to restore the home's modernist character while updating the dwelling to contemporary standards.
Before: The Deck
After: The Deck
"This home is an exception to the modernist mantra of form follows function and we wanted to celebrate the playfulness and dynamic quality of the layout by emphasizing its interconnectivity and indoor relationship to the outdoors," the architects explain. "The public and private spaces, as well as the terraced separation of program, allude to a family-focused, treehouse way of life and references many concepts inherent to Loos' Raumplan."
Before: The Dining Room
After: The Dining Room
Littlejohn planned the 2,575-square-foot house as four terraced levels that climb up the hillside and embrace the landscape through large windows. Emphasizing the original architect's approach to indoor/outdoor living was an important part of the renovation; the interior layout and elevations were preserved, as were other key modernist details, such as the central living room hearth.
Before: The Living Room
After: The Living Room
See Arch replaced many of the dated and damaged surfaces. Thermally broken folding walls of glass replaced many single-pane sliding doors to strengthen the indoor relationship to the landscape. The interiors instantly brightened once See Arch swapped the distracting wood paneling for new sheetrock and wood trim.
Shop the Look
Before: The Entryway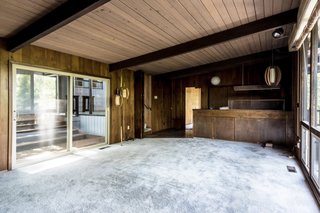 After: The Entryway 
In another nod to the midcentury roots of the property, See Arch fitted the renovated 3,768-square-foot home with a mix of iconic midcentury furnishings from Herman Miller and the Eames design collection, and more contemporary offerings from the likes of CB2, West Elm, and All Modern.
Before: The Living Room Wall
After: The Living Room Wall
"The blend of contemporary and modernist features and use of wood built-in components are our favorite features of the project," the architects said of the new mahogany wood millwork and custom wall paneling.
Before: The Kitchen
After: The Kitchen
"We designed many custom millwork moments into the home to weave styles, levels, and spaces together. The kitchen is at the center of the home and it's the focus of the home's new millwork. Accent wood walls become an extension of the kitchen cabinets and extend radially to both the front and back of the home, connecting the entry to the dining, kitchen, and utility areas." 
Before: The Kitchen Backsplash
After: The Kitchen Backsplash
Before: The Bathroom
After: The Bathroom
Before: The Side Deck
After: The Side Deck
Before: The Exterior Fireplace
After: The Exterior Fireplace