This Solar-Powered Prefab in Seattle Was Raised in Less Than Two Weeks
When Seattle homeowner Karen Stone reached out to architect Matt Wittman of the local firm Wittman Estes to design and build an affordable, one-bedroom studio in her backyard, the project produced more than just an eco-friendly prefab on a budget.
Newsletter
Join the Prefab Homes Newsletter
Get carefully curated content filled with inspiring homes from around the world, innovative new products, and the best in modern design
Not only did Stone's unit—dubbed Solar Studio after its solar rooftop panels—become the first in a series of prefab designs crafted for NODE, a prefab tech company co-founded by architect Matt Wittman to address Seattle's affordable housing crisis, but the backyard studio also became the city's first registered DADU (Detached Accessory Dwelling Unit) with the International Living Futures Institute (IFLI). The organization promotes progressive environmental design and helped develop the Solar Studio's specifications and building systems.
"We are using manufacturing to combine high quality and low cost," Wittman says, explaining that he sees mass-produced, modular construction as a cost-effective and sustainable solution to  Seattle's affordability challenge. 
In addition to producing solar energy, the Solar Studio also generates side income for Stone, who lists the one-bedroom unit on AirBnB.
"As a single module, the entire home can be reproduced and shipped completely finished," Wittman says. "The readily available materials, finishes, and products allow for easy replication and mass production."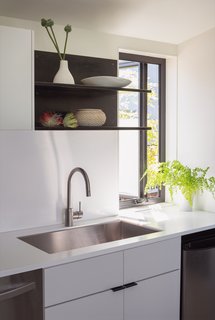 "The simplicity of the home embodies a 'poetic pragmatism', believing that good design can be accessible to anyone."

—Matt Wittman